Mother's day is all about showing how much we care, and nothing says it like a personalised and thoughtful gift. If you agree, then you're going to love this custom canvas print gift idea!
It's funny how things work out - my mum has been saying to me for months about how much she loves this photograph that I took of my dad (whilst he was taking photos himself) underneath a tree covered in blossom. Whether she was dropping a hint with Mother's Day here in the UK just around the corner, I don't know, but when I got an email from Photowall.com about reviewing a product from them, I knew exactly what I wanted to do.
Photowall are a Swedish company who offer a wide selection of beautiful wall murals, wallpapers and canvas prints that are both environmentally-friendly and fire retardant. I'd not heard of Photowall before they reached out, which now seems ridiculous, because the service and product I received from them (despite accidentally uploading a low resolution image) was excellent. Given the snow we've had in the UK (everything grinds to a halt at the first flurry of snow here), the delivery time was also pretty fast and the actual quality of the print was impressive.
Something else I really liked, though was initially a bit nervous about, was the DIY frame. Not only did it make the delivery package a much more transportable size, but as a DIY fanatic I rather enjoyed putting it together. It came with easy-to-follow instructions, all the tools you might need and took no longer than 15 minutes! Could it get any better? Yes, yes it could, because the lovely people over at Photowall are also offering you an exclusive 20% off your next order. Keep reading to find out how to create your own custom canvas and to get your hands on the discount code...
First of all, you're going to need to find or create an image you think your mum is going to love. Again, this was pretty easy for me but if you aren't so sure (or your mum doesn't talk as much as mine), the pre-designed canvas prints and artwork section of the Photowall website will have you feeling inspired in no time.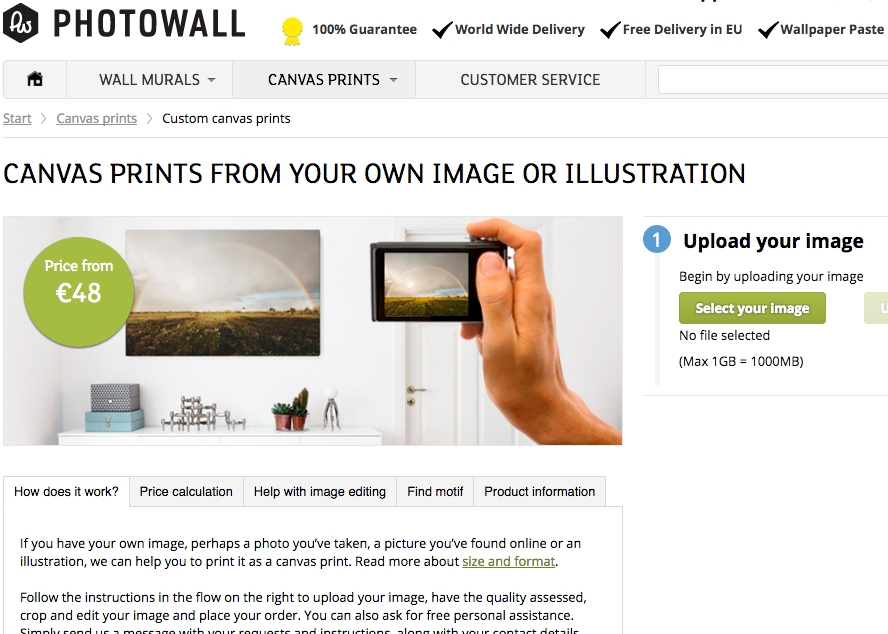 You'll need to be sure that your image is saved onto your computer as an image (e.g. ending in jpeg, png, tif) and that it is a good resolution. The website offers some helpful advice about this, so I'd recommend you read it before hand.
Once you've uploaded your image, you'll then have a chance to choose whether you'd like a DIY frame included, how you want the edge of the canvas to look and what dimensions (these must be multiples of 10) you want your canvas. When you're happy with your selection, you're ready to order and you can just sit back and wait for your canvas to arrive!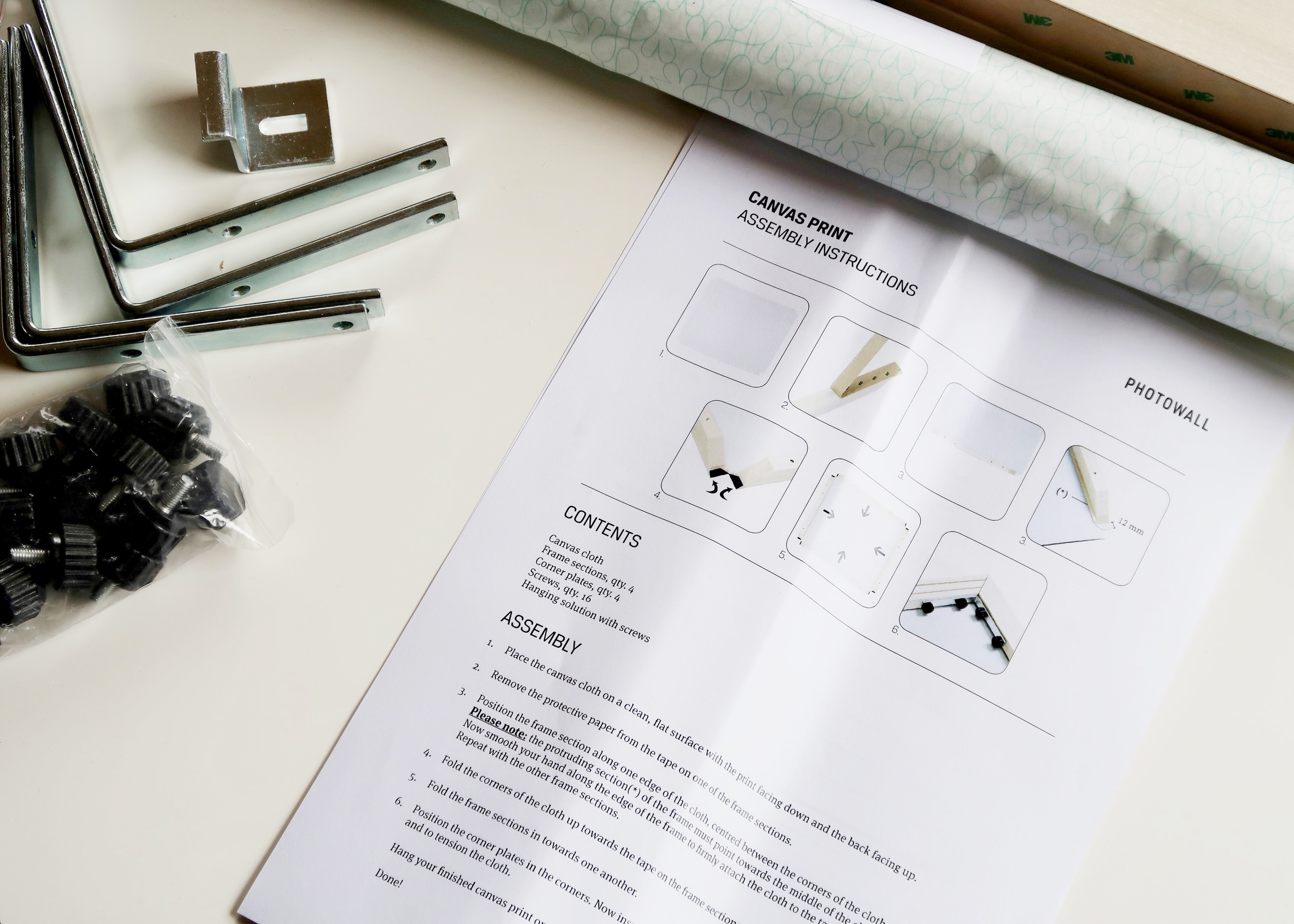 When your canvas arrives, you'll find several things inside, including some pretty easy-to-follow instructions and your do-it-yourself frame. First of all you'll want to unroll your canvas and lie it on a clean surface face down.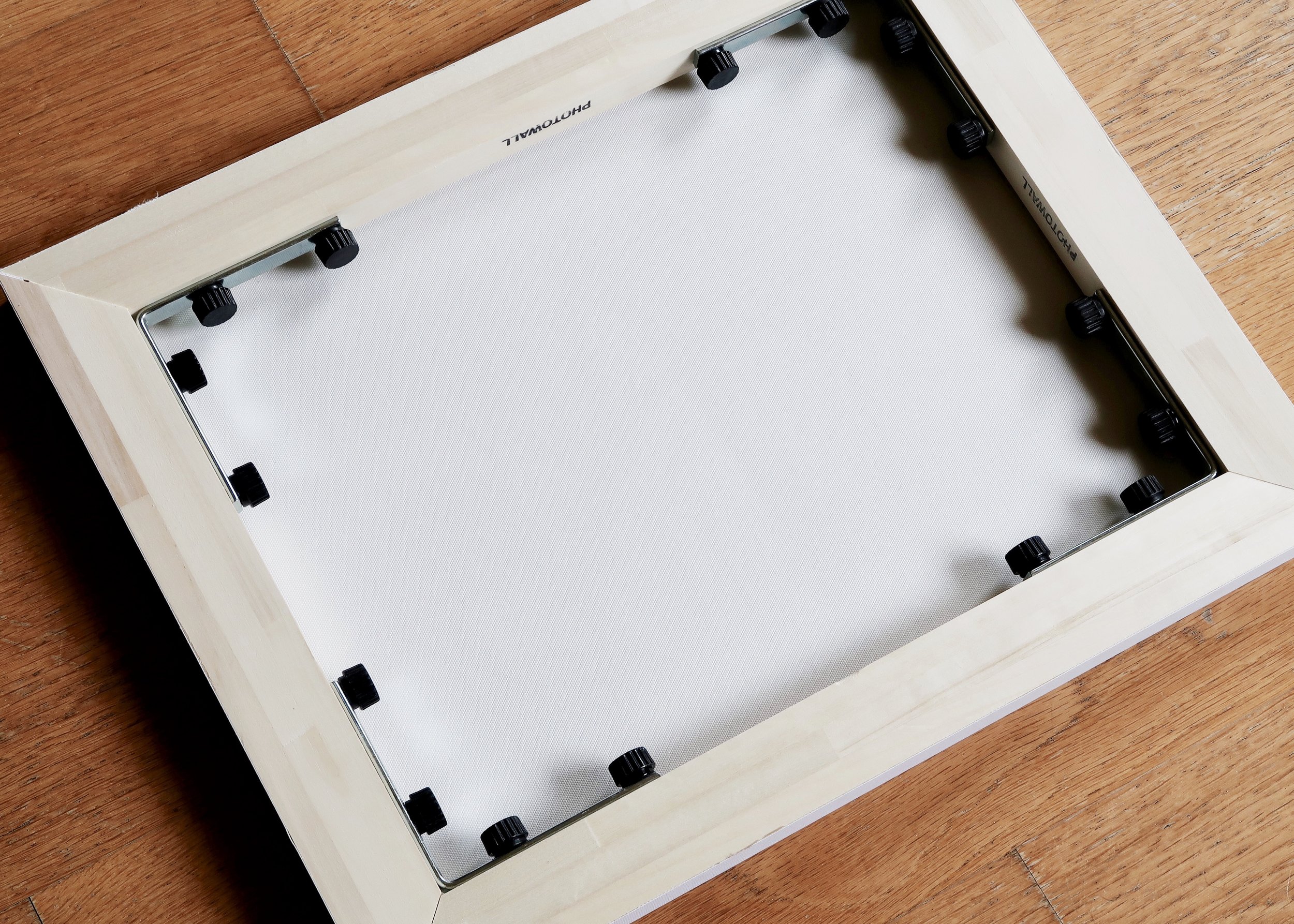 Follow the instructions to stick each side of the wooden frame to the back of the canvas, before folding them in towards one another and securing them metal corner plates and screws. Photowall kindly do all the drilling and so all you have to do is twist the screws into the predrilled holes. Finally, wrap your gift or use the included hanging solution to get your canvas up on the wall!
As soon as we have our own property and can start decorating the walls, I know I'll be heading straight back to Photowall to check out their wall murals and wallpapers.
To get 20% off your next order from Photowall.com, add the following discount code at checkout, which is valid until 15th May 2018:
pwisoscellacmpgn2018
Thank you to Photowall for working with me on this project!