Denim skirts are a longstanding summer staple that reappear time and time again. But this season there seems to be so many more interesting variations of them than ever before. If you fancy updating your old denim skirts to give them a new lease of life, then this DIY is for you!
I feel like I personally stopped buying and wearing denim skirts a few years ago, mainly because I didn't feel like there was anything in the shops that was particularly different from the denim skirts I already owned. But this year it's been a completely different story and I think I may well have gone and fallen back in love with them. There are so many exciting versions about, particularly in Topshop, and so when I came across an old midi length denim skirt, I decided to give it a quick update inspired by this gorgeous Floral Midi Skirt. Keep reading to find out what I used and how I made it...
First of all, you're going to want to cut your skirt to the length you want. Once you're happy with the length, use your scissors to sort of 'scour' the edges and fray the hem. This will give you a nice raw hem effect.
Next, copy the outline of your design it onto one side of the skirt. I used a biro and drew this close to the seam at the side, though you can adjust this depending on how much of the design you want to see from the front. Once you're happy with your design, trace the design onto the other side of the skirt.
Using the fabric paints, mix up various shades of green and using the lightest colours first start painting the leaves. To create some depth, paint one end of the leaves in a brighter colour than the other.
Next, mix up a darker green and use this to paint the stems and to create some shadows on each of the leaves. Create an even darker green to add shadows to the stem. Using the white, add in some highlights.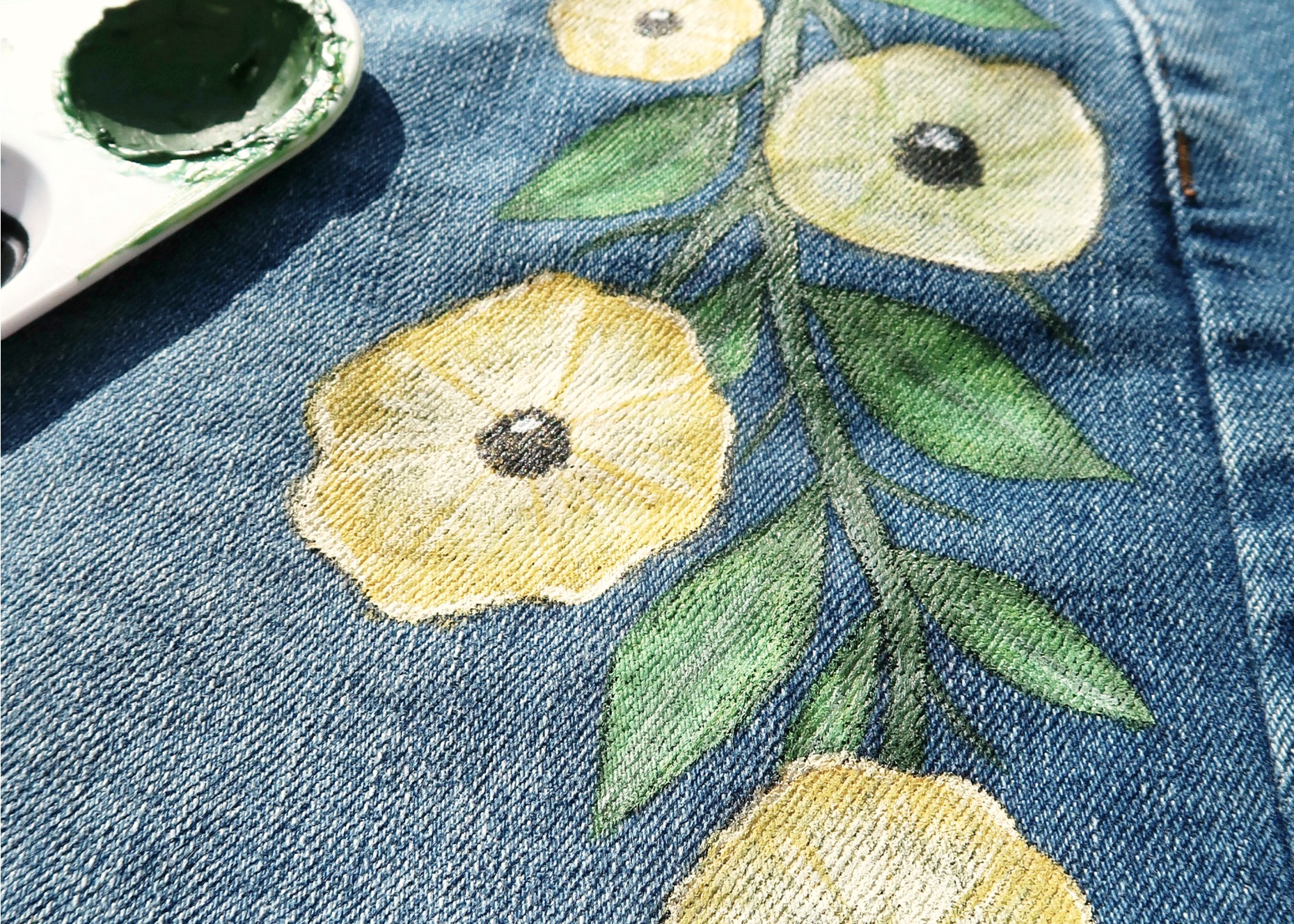 To paint the flowers, first paint a pale pastel yellow all over before going in with a darker shade to create the individual petals and shading. Next, stipple some black into the centre of the flower. When this is dry, add a small circle of white in the black to create a highlight.